Churches to discover on Marriotts Way
The Marriotts Way is a 26 mile footpath, bridleway and cycle route between Norwich and Aylsham. It is well maintained and has become extremely popular for both leisure activities and for commuting. It passes through or near Costessey, Drayton, Attlebride, Lenwade, Whitwell, Themelthorpe, Reepham, Cawston and Aylsham.
Below is a list of the churches 10-20 minutes from the Marriott's Way for walkers and cyclists.
St Edmund's Church, Old Costessey
4.5 miles from Norwich
This is a pretty church set in a delightful country churchyard with views of the river Wensum. It has an unusual part-brick tower and spire. Internally it is plain with the rood screen taking pride of place. The church has recently been re-roofed and has a new heating system. Information boards have been installed.
If you travel a further ¼ mile you can also see the remains of Costessey Mill.
8.5 miles from Norwich
This little church has a striking flint tower with long and narrow nave. Inside the church retains much of its rural character.
16.6 miles from Norwich
An isolated church of simple design. Slim nave and chancel and short flint tower. The interior is rustic with a real country feeling.
13 miles from Norwich
Reepham is unique in having three churches within one churchyard, St Mary's, Reepham which is almost hidden by the tall tower of St Michael's, Whitwell and the now ruined All Saints, Hackford.
Hackford church was burned down in 1543, and all that remains is one wall adjacent to St Michael's.  The remaining two churches are so close, that a connecting corridor now runs between them. Both churches have recently undergone repairs, with St Michael's now adapted for modern flexible use.
The pretty market square has a public house, an hotel and a coffee shop.
12.2 miles from Norwich
The tower is over a 100 ft tall and can be seen from many miles around. The whole church has a feeling of importance and it houses one of Norfolk's finest rood screens as well as some superb medieval glass.
In the village there is a public house and deli/coffee shop.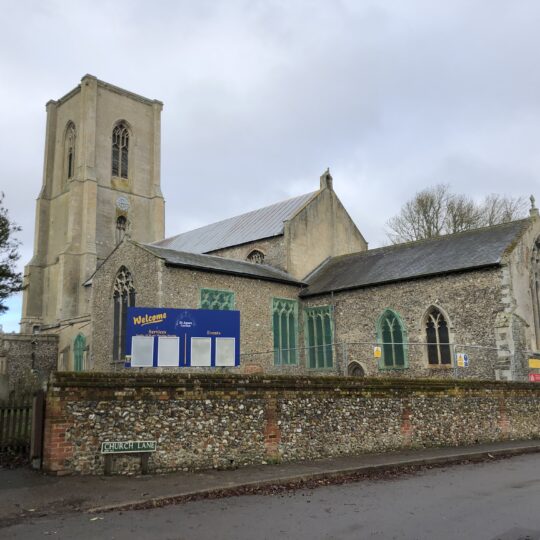 Externally the church is majestic and fitting for this sizeable market town. Internally it is spacious and impressive and is a very much at the heart of its community.
The market place and narrow streets have all the facilities normally associated with a market town.